Self-Service Tool for Patent Holders
Product Benefits
  Save with Self-Service renewal
By managing your company's renewals yourself through our system, you can save significantly on typical outsourcing fees.
 Make renewals in moments
Arrange payment of renewals quickly by automating the complicated processes using our online technology.
  It's easy to add your patents
From your account, just choose "Add a Patent" and fill in the required details. Automatic patent retrieval (where available) means you can add patents even more quickly and avoid errors.
  Get reminded
Receive free, reliable email reminders whenever renewals are due. We also ask for an emergency contact number so that we can call you if we need to. We recommend this, but it's up to you.
  Fees calculated
View your expected fees up front immediately. When you add cases, our system tells you on the spot what the official fee (in the Patent Office currency), our service charge and the total fee will be. You don't need to figure anything out – our system does it for you. If there is insufficient information for our system to calculate the fee due, a member of our team will be in touch to let you know what else we need from you to determine renewal costs.
  Future fee payments
Our system will continue with annual reminders and cost proposals annually (or however often the case renews) until the patent is no longer in force, or you tell us to stop (or we tell you that we are stopping). You can cancel our service at any time.
  Pay once, in GBP, AUD, EUR or USD
Simplify your life with no international transfers. Fair exchange rates and no hidden markup added. We also take credit card so you can pay quickly, simply and confidently through WorldPay. Just tell us which currency you would like and we will invoice you in that currency.
  Transparent billing
No more secrets. See exactly what you're paying for – actual patent office fees, any penalty late fees, and our processing fee.
  Everything in one place
See your patent and renewal statuses all together whenever you want.
  Safe and secure
Keep your information and your patents safe with best-practice security standards across data, technology and payments.
Feature Summary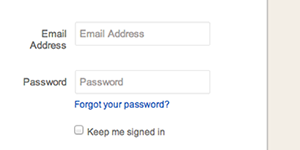 Easy to get started
You can sign up right now online – there's no minimum number of patents you need, no set up fee and no monthly fee. Take advantage of free email reminders when your patent become due for renewal with no obligation to use any paid services.
Reliable & Secure
With our renewal service you'll never again need to worry about missing a renewal. You can track your patent and renewal statuses through to completion. Best practice security protects your payments and data.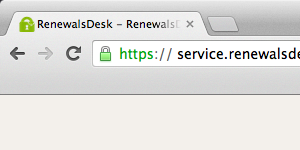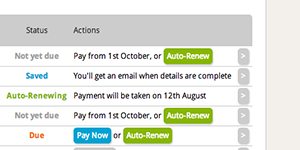 Just 5 Steps from Sign Up to a Renewed Patent
Enter the patent number
Confirm the automatically retrieved patent details
Type in data not automatically retrieved
See the next fee due and choose your renewal options
Receive reminders and pay by bank transfer or credit card
Formal confirmation will be sent once renewal is completed
All your Payments Handled
Make one payment for your upcoming renewals in your chosen currency, regardless of the Patent Office currency. Pay online by credit card to simplify the process. No international transfer worries.
Full Feature List
For further details on the cloud-based tool and supporting processes, view the full list of product features.